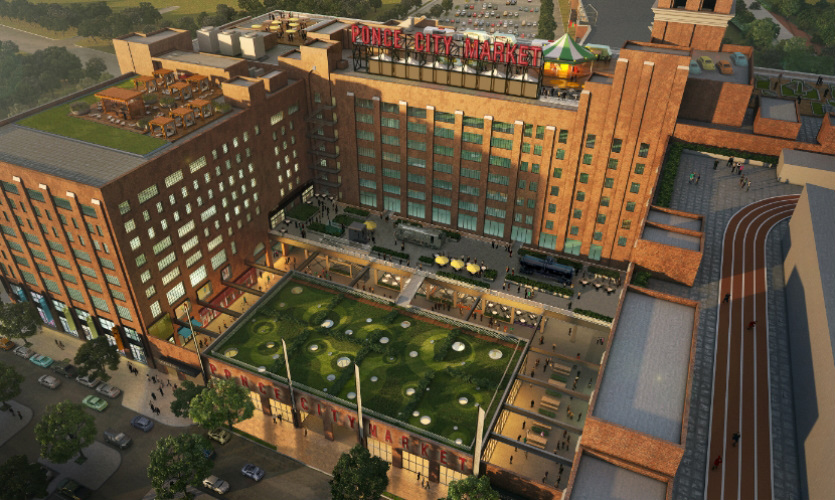 Why would you buy a brand new car, if you can buy a used car? Why purchase a new book, if you can buy a used one? The same concept applies to many neighborhoods in Atlanta during the gentrification stage. Atlanta is a city in the Southeast with faster growth population and rich in history. Gentrification is a housing and economic issue that affects a community's history and culture which is why City of Atlanta utilizes adaptive reuse as a conscious decision to preserve the past while planning for the best interest of city's future.
Adaptive reuse is not a decision just to preserve history, but it also requires a critical process to make sure communities don't waste materials. The entire process protects the environment and the element of a historic site.
One of the most successfully adaptive reuse projects in East Atlanta is Ponce City Market where the historic Sears Warehouse was turned in to a mix used development with offices, residences, shops, restaurants, and a rooftop park by Jamestown Real Estate Firm. Ponce City market is accessible by car, foot, and bike and it also connects popular East Atlanta neighborhoods such as: Midtown, Virginia Highlands, Poncey-Highlands, and the Old Fourth Ward. This site is now one of the most visited places for Atlantians to go on the weekends. The resurrection of this site has created a "Live, Work, and Play" lifestyle for its' residents. The Ponce City Market was the master project for adaptive reuse projects and helped lead other successful restoration projects such as: The Krog Street Market, White Provision and Stock Yards in West Midtown.
Other upcoming adaptive reuse projects in the City of Atlanta are: Colony Square, Pullman yards, Centennial yards, and Atlanta Diaries.
Colony Square in the heart of Midtown is currently underway by Architects Lord Aeck Sergeant. This adaptive reuse project involves demolishing the existing mall and two-story building. In their place, two new office buildings and a movie theater will be build on top of the existing parking structure. The two original office buildings will stay and go under new makeovers. Retail and restaurant spaces will be available on the ground level surrounded by an open plaza hoping to make a this a must go to destination in Midtown.
Centennial Yards will be the biggest mixed-use development in the South East located in the heart of downtown Atlanta knows as The Gulch. Approximately 50 acres of parking deck and railroads will be turned into opportunity for growth featuring more than 12 million Sq. Ft. mixed used development including residential, retails, office and hotel.
Atlanta Diaries, located in Reynoldstown, was abandoned since Italian milk company, Pharmalat, shuttered in 2004. Developers from Paces Properties projected to transform these 11 postindustrial acres into a mixed-used hub while preserving the elements of its original site and embracing the architecture of tomorrow. This mixed project includes apartments, retail space, office, a music venue with a roof top hangout creating an industrial-hip outdoor space called- The Yard. Paces Properties refers to this project as "A new center of gravity for the city's vibrant Eastside neighborhoods."
The Pullman Yards is another most talked about development coming up in the Kirkwood neighborhood. Its $100 million mixed- use project will revive 27-acre of industrial site, former Railyard, into Atlanta's newest moviemaker center. This project will include multifamily dwelling, working spaces, retail space, restaurants, boutique hotel, outdoor concert venue, and film production facilities. Owners, Atomic Entertainment, expects the project to be completed around Fall 2021.
Based on the upcoming projects listed in this blog, you can understand that adaptive reuse is an attractive alternative to many developers in terms of sustainability and profitability while preserving the historic character of the built environment. It is a great way to blend the old with the new to meet society's needs.
I hope you find this post interesting and stay tuned for our next blog!