Welcome To East Atlanta…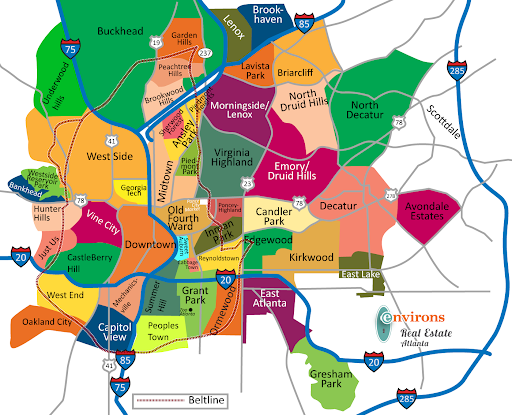 Why is it that City of Atlanta's population continues to grow?? According to Atlanta Regional Commission Atlanta's population increased by almost 11,000 between 2018-2019. Some of the reasons why people and companies are moving to Atlanta is due to low cost of living, job opportunities, lifestyle, nature, weather, food, and close proximity to the biggest International airport in the United States.
Moving to another city takes planning and a lot of decision-making. The biggest challenge people face is deciding where to live. So, whether you are a laid back suburban type of person, a big city lover, or a mix of both types, you can fit right in in any of the best up coming neighborhoods in East Atlanta.
Atlanta is divided into multiple neighborhoods; each having its' own vibe and appeal. The Atlanta Beltline is a former railway track around the central part of the city that connects 45 different neighborhoods. The Atlanta Beltline project has helped revitalized many neighborhood promoting a Live, Work, and Play lifestyle.
Besdies Buckhead and Midtown, other East Atlanta nighborhoods made it to the "Best Places to Live n Atlanta". Here is the list of best neighborhoods in Atlanta:
VAHI as many of its residents call it, is a small town community close to Ansley Park and close to Downtown. Virginia Highlands is located near many attractions including the Beltline, Ponce City Market, and Piedmont Park. This neighborhood is popular for art, shopping, dinning and nightlife!
This Neighborhood is considered Atlanta's hippest neighborhood located East of Downtown and south of Midtown. Old Fourth Ward is becoming one of the favorite places for people to hang out on the weekend due to the proximity to Ponce City Market and the Beltline. Its huge variety of dining and retails options attracts hundreds of people to this neighborhood. It is also considered a pedestrian and bike friendly neighborhood
Druid Hills is well known for Atlanta's prestigious neighborhood with historic parks, churches, and mansions. It is located 5 miles East of Downtown Atlanta and has some of Atlanta's top schools. This Druid Hills is perfect for anyone looking for an upscale, quiet and peaceful neighborhood.
Restaurants: Thaisoon & Sushi Bar, The General Muir, Top Spice, Taziki Mediterranean, Rise & Dine, La Parrilla.
Living in other Atlanta Neighborhoods can get expensive, but this neighborhood offers you an affordable quality housing in a friendly community with walking distance to local restaurants and shops. There are many parks including Gillian Park, PB&J gallery, and the Kirkwood Urban Forest community Garden, Kirkwood is located close to the airport, GA State University, GA Tech, and interstate I-20, I-75, and I-85. Also, conveniently located near a Marta Station for all type of commuters.
Restaurants & Bars: Dish Dive, El Myriachi, The Pullman, The Kirkyard Pub, Anne's BBQ, Sun In My Belly, Poor Hendricks, Le Petit Marche, Ration and Dram, Salaryman, Mixed Burgers
Decatur is automatically associated to Agnes Scott College, and Emory University, and the Center of Disease Control (CDC). But it is also known for its fun and popular events taking place every year in the downtown Decatur.
These are some of the reasons why people are choosing to move to East Atlanta! Check out some of the places listed in this blog and let us know your thoughts!
Stay tuned for our next blog!